Year 6 into 7 Transition
Welcome
My name is Ms Morris and I am the Assistant Principal in charge of transition. I've worked at Carshalton Boys for 11 years and I also teach English. My job is to make sure your transition to secondary school goes as smoothly as possible. This means I work closely with the Pastoral Support Officer and Learning Coordinator to put together a series of activities and events to help you settle in and become a member of our family.
We are hoping to visit you in your primary schools over the next few months and this will give you the opportunity to ask us any questions and meet us face to face. If we are unable to visit you in person, we will do this virtually.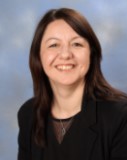 Ms Morris
Assistant Principal
You will also be invited to a taster day in July which is when you will get to meet the rest of your year group, your tutor and other teaching staff.
Once you join us, I will be working closely with you and your tutors to make sure you reach your potential and make the most of your time here with us.
We are really looking forward to meeting you and welcoming you into our Carshalton Boys family.
Ms Hodge: Pastoral Support Officer
My name is Ms Hodge and I am the Pastoral Support Officer (PSO) for Year 7. I started at Carshalton Boys in September, having previously been a primary school teacher. I work with the Learning Coordinator and Ms Morris, the Assistant Principal, to ensure that your move from primary to secondary school goes smoothly and to support you during your first year here. I am looking forward to meeting you all and welcoming you to Carshalton Boys.
SEN Information
For more information on SEN please click on this link
For a SEND Transition Pack please click on this link: SEND Transition Pack
For a Worksheet Transition Pack please click on this link: SEND Worksheet Transition Pack