Uniform Information
We are really proud of our uniform here at CBSC and expect our students to wear their uniform with pride.
Our Uniform includes:
Black trousers
White shirt
A CBSC tie
A CBSC blazer
Black leather shoes
A CBSC jumper- this is optional
A CBSC coat – we do not allow students to wear their own coat so we would advise buying a CBSC coat for the winter months.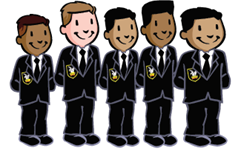 We also have a CBSC PE kit that students will need.
Our PE Kit includes:
A T shirt
PE shorts
PE socks
PE Bag
A microfleece- this is optional
You will be able to order uniform from 1st July 2021 and it will be available for collection from 10th August.
Collection will be by appointment only and we will share details of how you can make an appointment to collect it via the bulletin in May.
The price list can be found below.