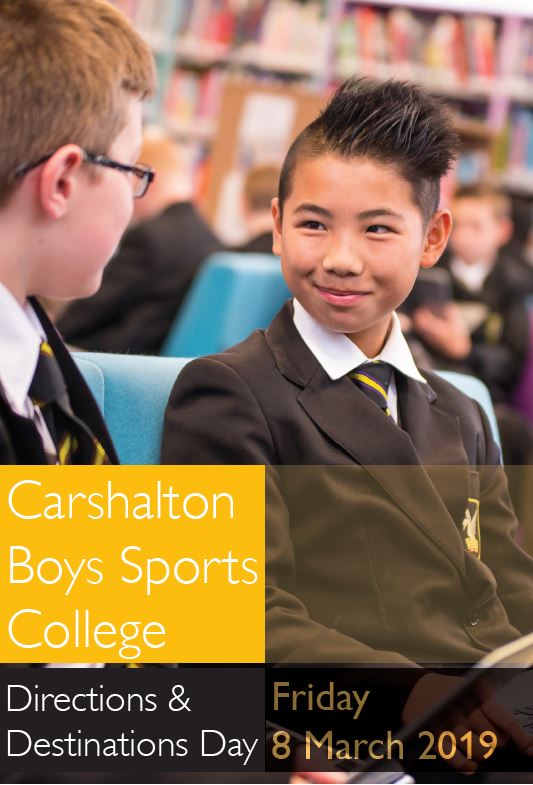 Directions & Destinations 2019 Friday 8th March was a fabulous event, enabling our students to engage and interact with broad range of Colleges, Universities and Employers.
Thank you to all our visitors who offered exhibition stands and an extensive array of specialist workshops.
This year our exhibitors included;
Colleges:
Carshalton College
Nescot College
East Surrey College
John Ruskin
Plumpton College
Access to Music – The Creative College
Apprenticeship Support and Knowledge for Schools Project
Universities:
Aim Higher
BRUSA Sports Uk
Capital L - Routes into Languages
City - University of London
Kingston University
London South Bank University
Northumbria University
Oxford Brookes University
Oxford University - The Queen's College
Solent University, Southampton
St George's , University of London
St Marys University, London
UCFB
University of East London
University of Kent
University of Lincoln
University of Plymouth
University of Portsmouth
University of Roehampton
University of Sussex
University of Winchester
Swiss Education Group
Employers:
Louis Montebello
Aon Hewitt Company
Army
Biomedical Scientist, Epsom & St Helier Hospital
The Challenge NCS
Cicero Group
Chessington World of Adventure Resorts
Cognus
Future Elite Sports
JACE
Liberal Democrat Member of Parliament
Mazars LLP business advisory and accountancy organisation
Metropolitan Police Service
Monument Tools Ltd
Natwest
NotOnSunday (Graphic Design and Branding Studio)
Openreach
Price Building Services Ltd
Royal Institution of Chartered Surveyors (RICS)
SE Labs Ltd
Sheppard Piling Ltd
Sutton & District Training
Sutton United Football Club
higher education
"Higher Education in London works with over 40 universities and colleges to provide a single point of contact for teachers to find out about university outreach across London.
We have produced three case studies, showcasing best practice in HE engagement, from the perspective of a school, a college and a university.
In this film we hear from Lorna Ellis, the HE and UCAS coordinator at Carshalton Boys Sports College. Here Lorna talks about the work she has been doing at the school, and why she thinks Carshalton Boys have been so successful at raising the aspirations of their students and increasing the number who apply to university."
Important Links:
Workshops:
Carshalton College - Time Management
Carshalton College - Apprenticeships
Oxford and Cambridge University
Solent University Southampton - Student Finance