A-Level reform in England
Currently, whilst AS-Levels can be taken as a standalone qualification, they are generally taken as the first part of an A-Level course. AS-Levels are completed at the end of Year 12. A2 exams and coursework are then added to an AS-Level at the end of Year 13 bringing it up to A-Level standard.
From September 2015, the way A-Levels are made up is changing. A-Levels will still take two years to complete but will no longer be split into AS and A2-Level. AS-Levels will still be offered as a standalone high quality qualification in their own right, taking one year to complete, but will no longer be a means to progressing up to A-Level standard.
How will the changes affect my study?
You will sit all exams at the end of your qualification. If you take an AS-Level, you will take your exams at the end of the year. For an A-Level, you will not take any external exams until the end of the two years.
As part of your studies, you will take internal practice exams throughout your course.
Course content is also changing from September 2015.
There will be less coursework and more focus on exams.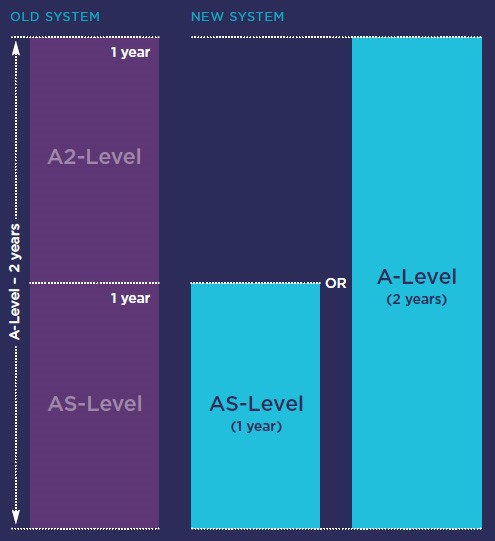 New system from September 2016
Subjects
Art & Design; Biology; Chemistry; Economics; English Literature; History; Photography; Physics; Psychology; Sociology, Applied ICT; Geography; Physical Education; Spanish; BTEC
Current system
Subjects
Drama & Theatre Studies; Government & Politics; Graphic Product; Mathematics