Regan's FWW T-shirt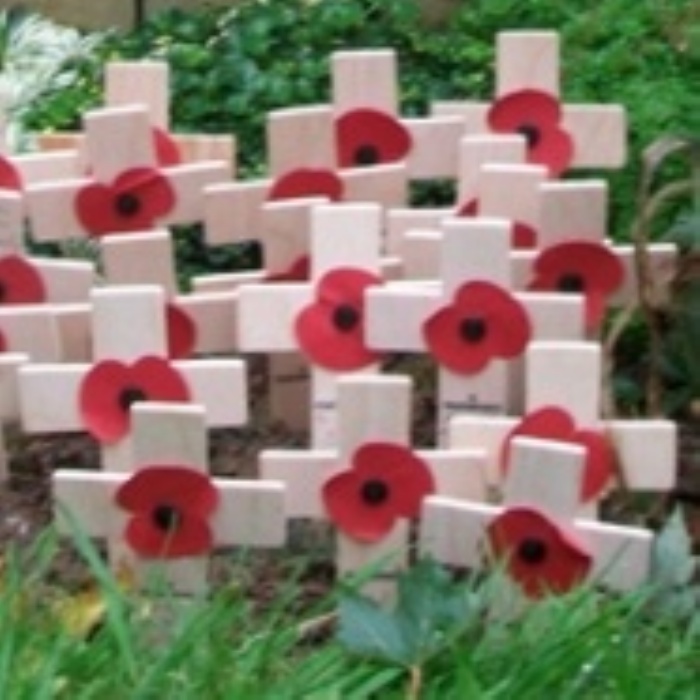 Remembrance Day Report - My FWW Experience - by Regan Cain Year 10 CBSC
When I was in Year 9 we were told in assembly that Carshalton Boys Sports College was holding a competition where you could win a trip to the Belgium and French Battlefields and represent the school.
When I was in Year 9 we were told in assembly that Carshalton Boys Sports College was holding a competition where you could win a trip to the Belgium and French Battlefields and represent the school. We had to write a small piece as to how we would share our learning from this trip with other students and create an artefact to remember those who had died. I had a couple of ideas but a poem seemed the most appropriate. I tried to imagine what the soldiers would have felt like waiting in the trenches, the sounds and the smells and that's where my idea came from. I then decided to write my poem, "Waiting", on a T-shirt, which if I won I could have printed to sell, with all money raised going to the Royal British Legion.
CBSC have been involved in the making of the T-shirt. The Art Department made up the first one shown on BBC Breakfast News and a Year 13 Art student called Sam Griffiths designed the poppy. It feels great to see people buying it, knowing that I wrote and designed the t-shirt and the good cause it's raising money for. The T-shirt is being sold through the school's website so people can just log on to place their orders.
There are some activities due to happen at CBSC to mark Remembrance Day. On Tuesday 11th November a memorial will be held at the school where a bugler will play 'The Last Post' and a memorial will be unveiled on one of the walls within the school. It is a black silhouette of a soldier standing on a hill with my poem written on it. In addition, the whole school curriculum is being devoted to the First World War, so in Science for example, we will be learning about periscopes and refraction and reflection. In English we are studying the "Wipers Times", the newspaper which some British soldiers produced in Ypres during the war. We have lots of visitors coming to school on the day as well, including two MPs, both of whom are Under Secretaries of State and several historians including Dan Snow.
I am most looking forward to being involved in the two minutes silence on the 11th of the 11th at 11:00 am. This is when the whole school is involved in the Last Post ceremony and I will be placing a wreath beneath our new school First World War memorial. Hopefully lots of teachers and students will be wearing my T-shirt.
I now feel a special connection with my local community as a result of the trip to the French and Belgium Battlefields. We researched a soldier called John William Stracey who was from Carshalton who died in the war. When we came back we had the privilege of meeting with his 82 year old nephew and were able to spend time speaking with him which was fantastic. My strongest memory of the trip to the Battlefields is visiting the preserved trenches in Ypres, Belgium and 'The Last Post' at the Menin Gate which is played every night at 8:00pm.
I would strongly recommend, if people are able, to visit the Battlefields, young or old. It's all very well reading and seeing pictures in books or watching documentaries on the television but actually being there gives you a completely different outlook and understanding of the First World War and a respect for all those who were involved in that conflict.
Young people need to remember those that died and were injured in the war as life could have been very different if those brave people had not fought for our country. I have had the opportunity of visiting Headley Court Military Rehabilitation Centre and have seen some modern day soldiers who have lost their limbs in Afghanistan. We all need to appreciate what soldiers go through for us, even today. Having been on the trip to the Battlefields I have more of an understanding about what Remembrance Day means. I am in the Army Cadets and I have marched before on Remembrance Sunday, but this year it will mean more as a result of all I have seen and learnt about the Battlefields. It will make me think more about everything these men and women went through.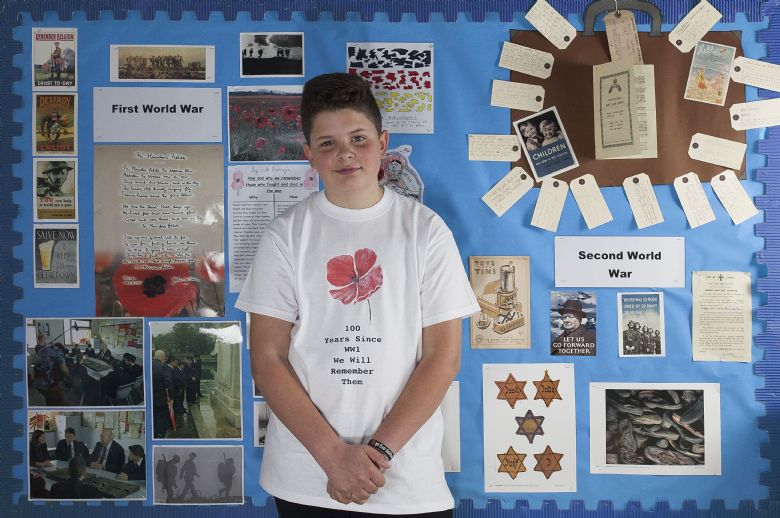 Regan showing the importance of remembering the lives that were lost

Flanders Fields by Sam and Regan