Directions & Destinations 2023 – 10th March 2023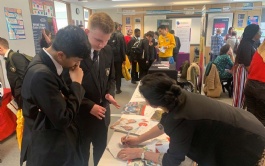 We are very much looking forward to welcoming our partners from University, Colleges and local business on 10th March.
This is an important event for our students and their awareness and preparation for next steps. Year Groups 7,8,9,10 and 12 will participate in the event. Year 13 students will be taking a vital leadership role on the day. Parents should check the Year Group specific communications sent to ensure clarity on arrangements, including specific arrival time.
Year 7,8,9,10 students are expected to be in full uniform. Year 12's in smart professional attire (as per exam dress code). Please note there will be no food / refreshments on site for students during the event. Free School Meal vouchers will be sent on Wednesday 8th March.
Please do not hesitate to contact us if you have any questions.
Paula Cowell
Assistant Head, Director of 6th Form
WRL and Careers Coordinator