Sixth Form Open Evening - Thursday 20th October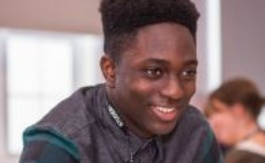 We are holding our Open Evening for 6th Form for admissions in September 2023 on Thursday 20th October 2022. The Evening will run from 5:00pm until 7:00pm with the first entry to the school site at 4:50pm and the last entry at 6:45pm.
There will be two Principal's talks at 5pm and then 6pm. We would encourage you to time your visit so that you can attend one talk.
In addition to the Principal's talk there will be an opportunity to meet with teachers and students. The Chelsea Academy coaching team will also be available.
There will be light refreshments in the café available for purchase during the event.
Prior to the event, the link below will provide invaluable information regarding our outstanding 6th Form
Carshalton Boys Sports College - Post 16
We very much look forward to welcoming you to CBSC 6th Form and do not hesitate to contact us if you have any queries.
Paula Cowell
Assistant Head / Director of 6th Form