U19 Basketball County Champions!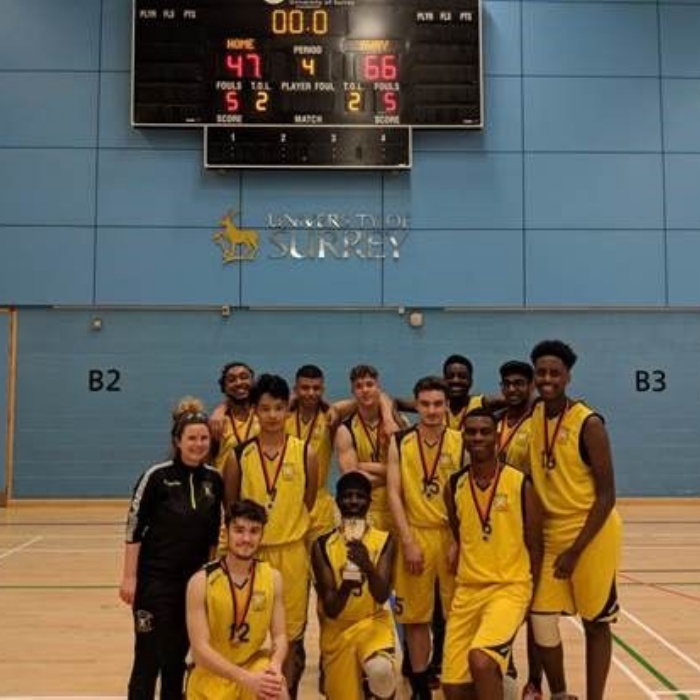 Over the last two years the U19 CBSC basketball team have shown excellent teamwork, determination and resilience. They have narrowly missed out on the finals over recent years losing by 1 or 2 points in the semi-finals. This year their hard work and drive enabled the team to bring home the GOLD trophy.
On Friday 15th March 2019, the U19 CBSC basketball team played in the Surrey Basketball U19 Cup Final fixture. The team watched two other year group finals before they went onto the court at Surrey Sports Park. The team remained calm as they started to warm up together and then the two minute whistle was heard. The team came off the court to receive a final few words from their captain and Miss Hendle (No injuries and No Fouls) with a team cheer of " HEART" the game started. CBSC started off really strong, leading in the first quarter by 17-5 and built on this within each quarter. The final score ended as 66-47. CBSC celebrated there win and collected their gold medals in the medals ceremony led by the Chairman of Surrey Basketball Bob Chappell. The officials complimented our boys at the end of the fixture by saying "Out of the 6 students we have officiated today, your school were the politest and most respectful out of all the schools. Whenever we made a decision which was even against your school, the boys listened and respected us. A big well done to them."