War Child Campaign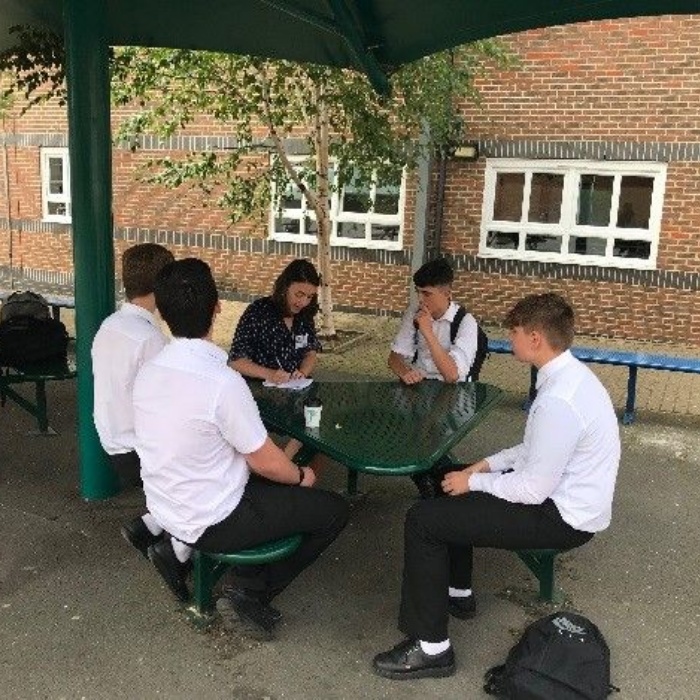 Two pupils from Carshalton Boys (Tristan and George) have been featured in the Evening Standard and Independent newspapers as part of War Child's "Learn to Live" campaign.
The project is designed to raise awareness of the plight of refugee children and in particular the long-term impacts of conflict. The school has been twinned with an education programme run in the Za'atari refugee camp in Jordan. The camp, which is now Jordan's fourth largest city, contains 80,000 Syrians (half of which are children) who have been forced to flee the war in their own country.
The overall aim of the campaign is to increase empathy and understanding between pupils from both countries and to highlight what the pupils have in common as well as what separates them. It is also hoped that readers of the newspapers will gain a deeper understanding of the issues facing young people in war zones.
At the end of last term two journalists came into school to meet the Yr 10 Citizenship class that will be taking part in the project. They interviewed students about their lives, aspirations and hopes for the future. The students gave some very mature and thoughtful answers with the journalists very pleased with the material they gained. Footage from the interviews will be used for future articles and also t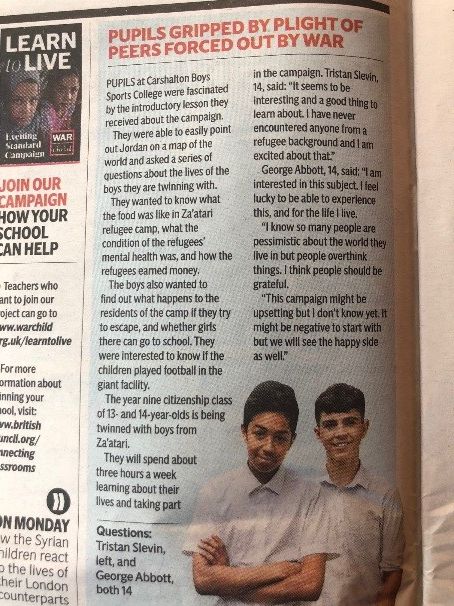 aken to the refugee camp in Jordan and shown to the students taking part in the project there.
War Child's operations manager has also visited the school to talk about the work War Child undertakes in various places around the world. The students found his first-hand account of working in war zones literally days after hostilities have ceased both fascinating and inspiring. The class asked lots of really thoughtful questions and gained a huge amount from the talk.
Over the coming months students at Carshalton Boys will be learning more about the lives of the students in the Za'atari refugee camp and are likely to feature in the newspaper further. Watch this space.