10 CBSC pupils attend cricket masterclass led by former England cricket international Mark Ramprakash.
The Physical Education Department were invited to join in a masterclass session as part of the Youth Sport Trust and Sky Sports Living For Sport program on Thursday 24th June. This was led by former England cricket international Mark Ramprakash led a cricket masterclass at the Brit Oval with ten pupils from our very own Carshalton Boys Sports College.
Ramprakash took the students through basic cricket skills before moving into a batting masterclass and passing on his top cricket tips. He then shared his personal experiences with sport in a Q&A session.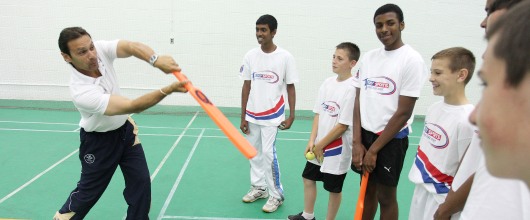 Ramprakash, one of the only 25 players in the history of the sport to have scored 100 first-class centuries, said of Sky Sports Living for Sport: "Sport has played a really important part in shaping who I am today so it means a lot to be able to lend my support to this initiative which motivates young people and encourages them to believe in themselves - on and off the playing field."
Let's hope that the boys take this on into Year 10 by winning some cricket fixtures and continue to have an inspiring career at Carshalton Boys.